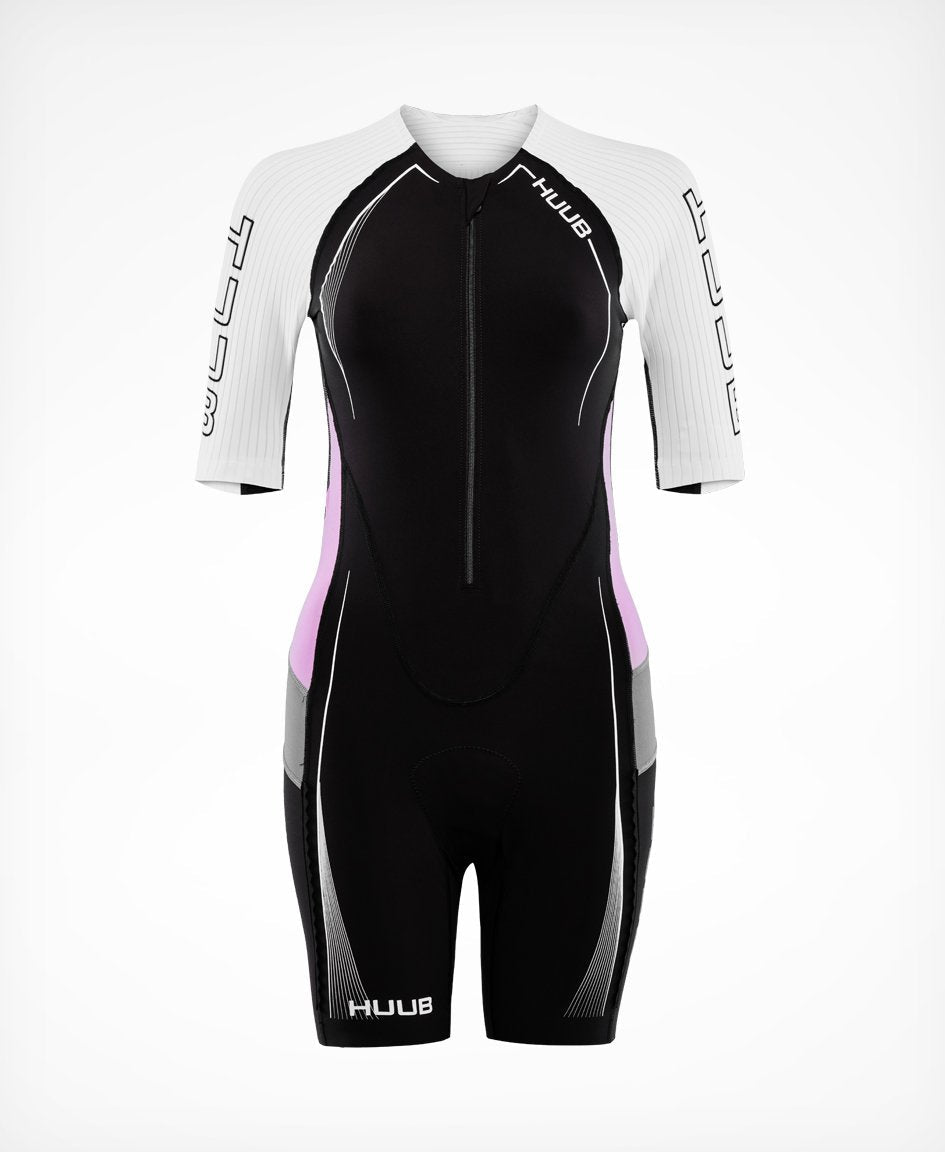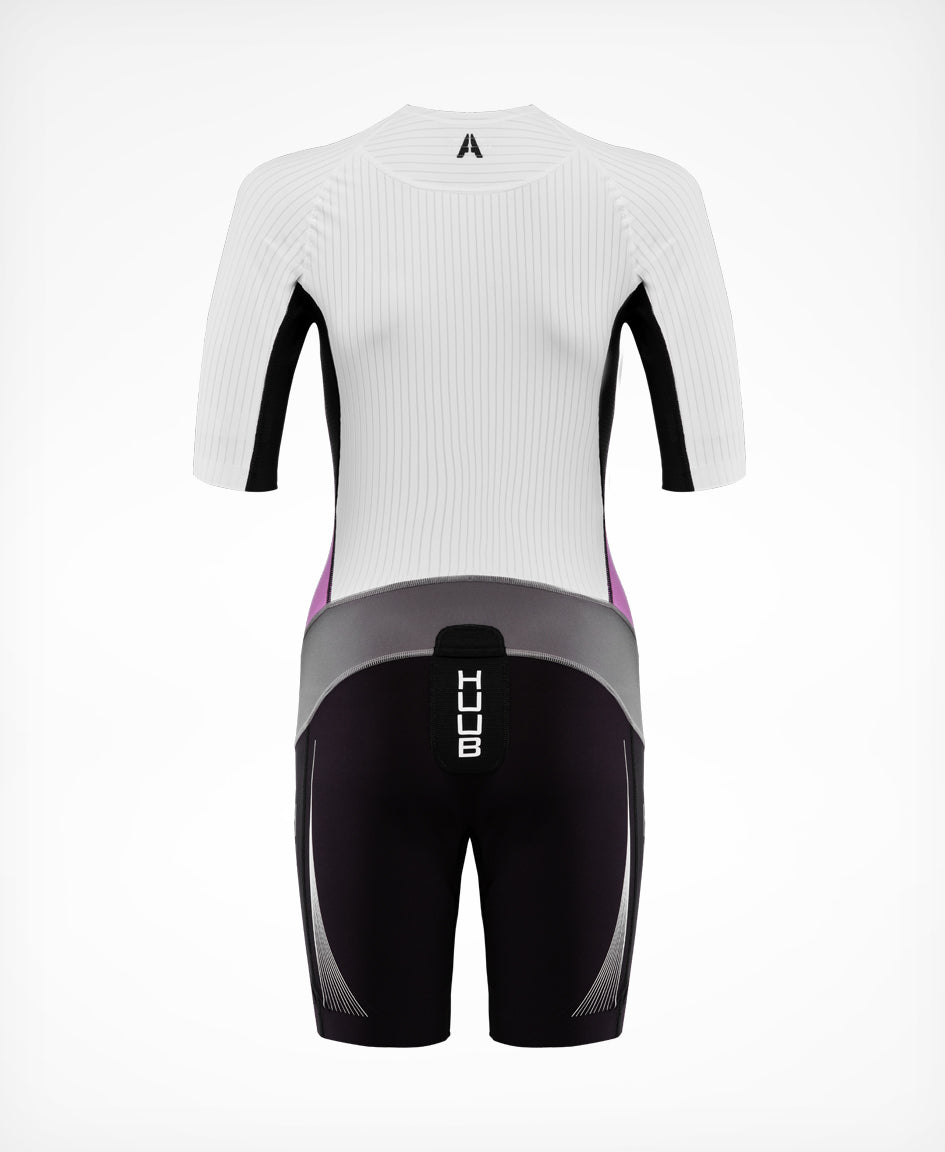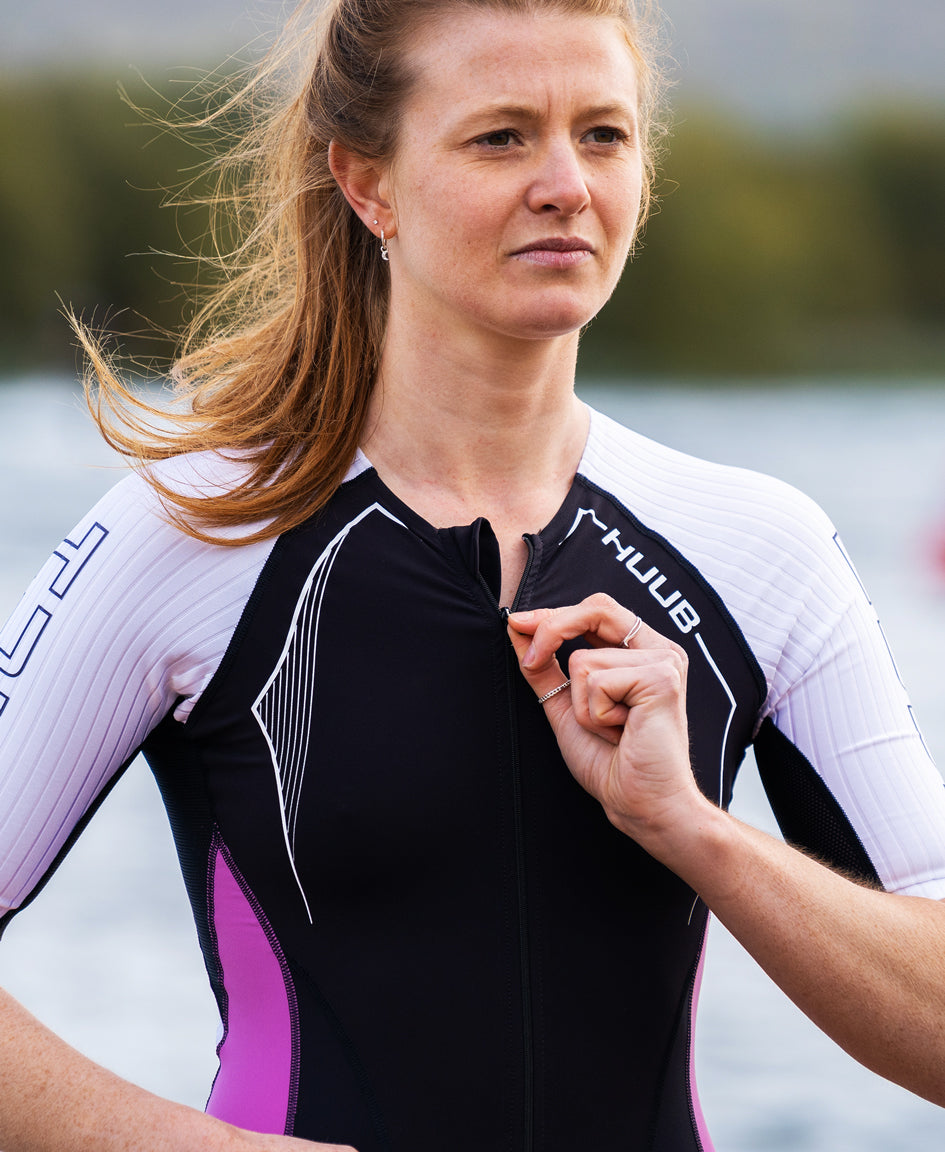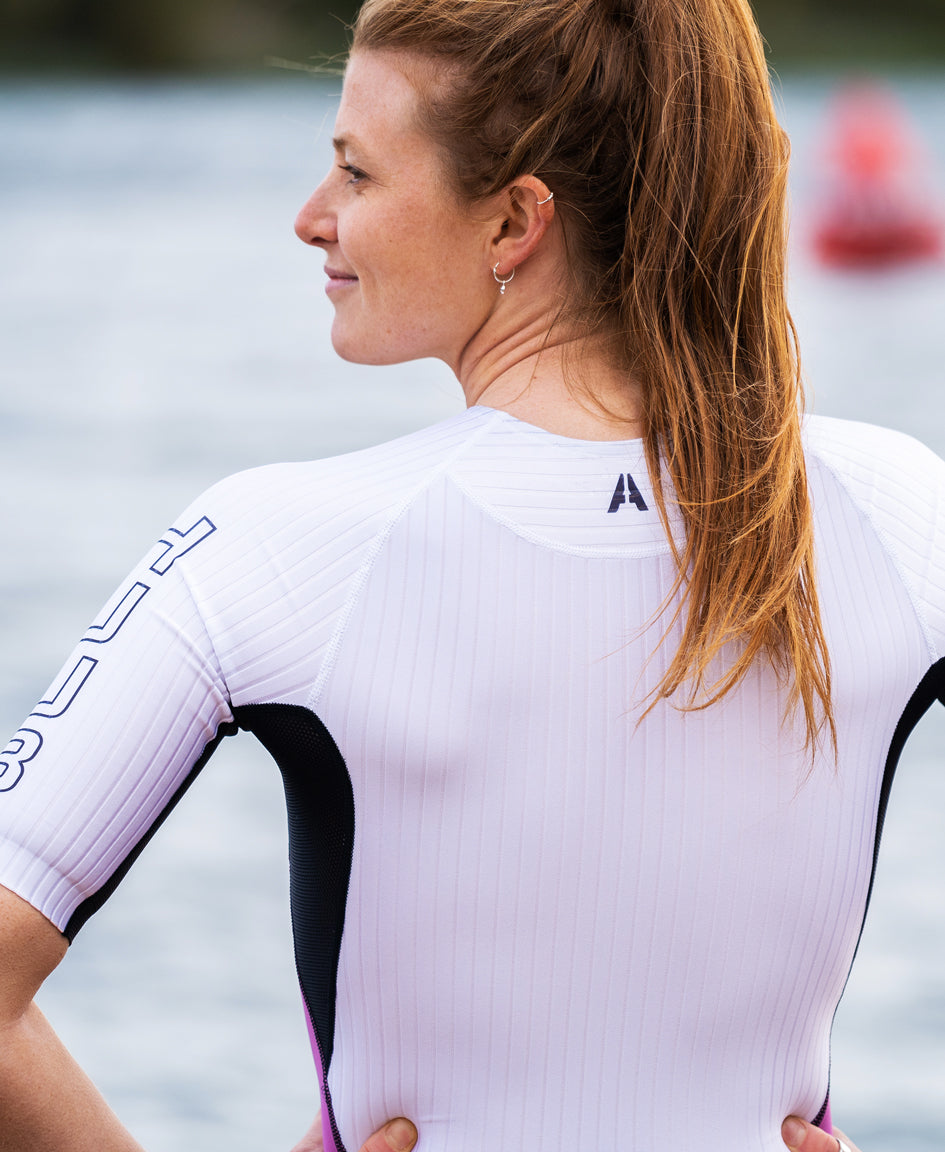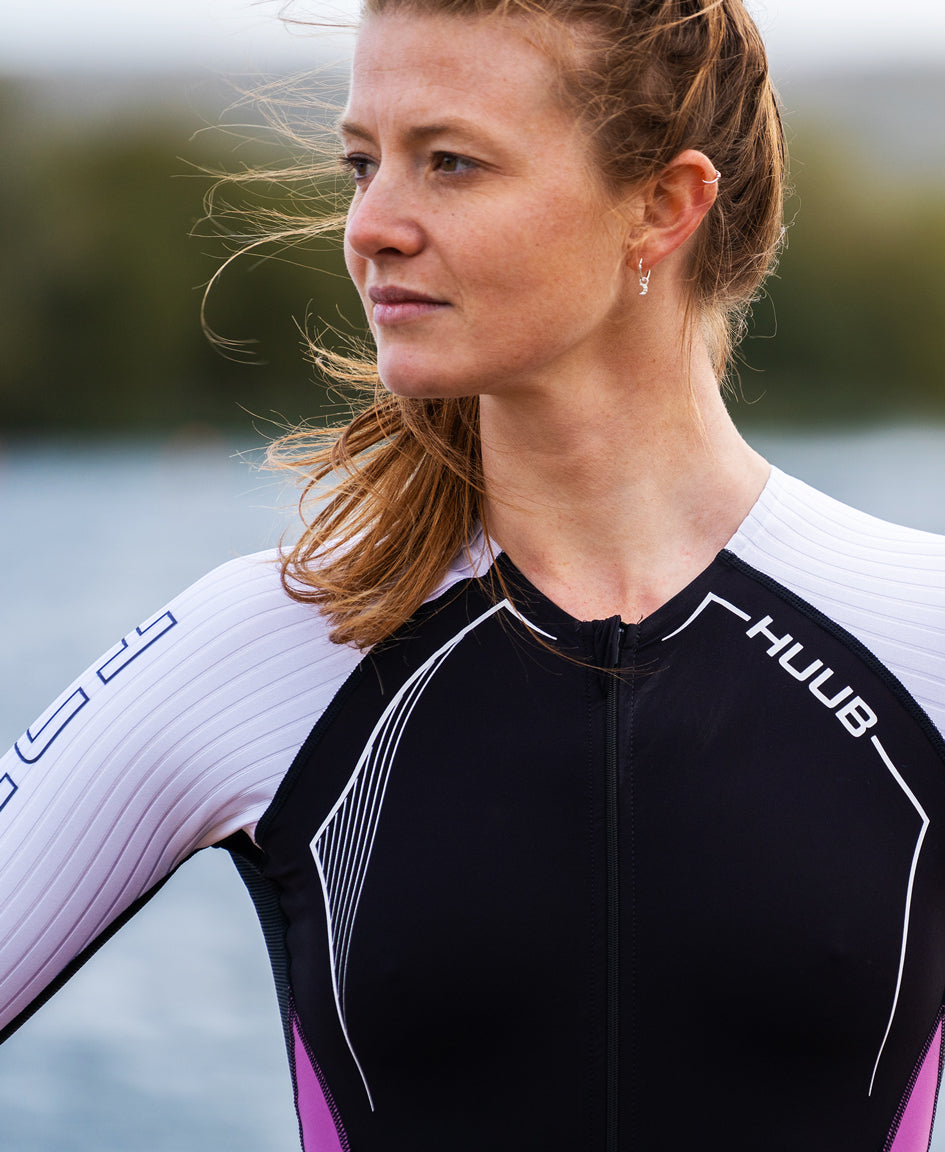 Anemoi Aero Tri Suit - Women's
Regular price
£229.99
Sale price
£137.99
Save 40%
/
Tax included
In stock, ready to ship

Inventory on the way
 'TRUE AND TESTED AERODYNAMIC TECHNOLOGY'
Unique 'Anemoi' design by Dan Bigham (exclusive to HUUB).
Neoprene Trip Technology (patent pending).
Arms Neutral™ design for swim comfort and aero efficiency.
Aero rear pocket.
Longer arms and legs for aero benefits.
Lightweight quick drying coldblack® fabrics.
Incredible time-saving performance.
The future of the triathlon suit is changing. We noticed this very early on and have decided that the only way to create something great is to rewrite the rule book and change expectations. We knew this couldn't be done alone, so we sought-after an ex Mercedes-AMG Petronas aerodynamic performance engineer going by the name of Dan Bigham.

Dan combines his extensive knowledge of aerodynamics to understand what makes a triathlete faster. In addition to this, he's also an athlete himself. Dan isn't just about data, he is also passionate about usability and function. As Dan is a national cycling champion and triathlete he has helped HUUB athletes Alistair Brownlee and David McNamee go faster, not only through positioning and equipment choices but also with the help of the ground-breaking Anemoi Aero Tri Suit.
His developments and collaboration with HUUB have resulted in a truly stunning and effective product. The Anemoi Project doesn't stop here! Yes, we have created an incredibly fast suit, but this is just the beginning of a long-running project. We will keep digging into the interesting world of cycling aerodynamics, utilising what we find to progress our development and bring faster products to you.
Anemoi Watts & Time Saving
Ironman distance: @ 22mph = 7.5W - 350 seconds (just under 6 minutes)
Ironman distance: @ 18mph = 4W - 414 seconds (just under 7 minutes)
Olympic distance: @ 24mph =9.8W -71seconds
Olympic distance: @ 20mph =5.7W -83seconds
The Anemoi was compared to our best selling DS Long Course Tri Suit. Tests were done at a velocity range from 35kph to 55kph on seven different athletes (including Ali Brownlee, David McNamee, Harry Wiltshire and Dan Bigham). Aero benefits can and do vary across riders because of their body shape and position (in the region of ~30% variation), but15w is an average that we've seen across every size, shape and speed of rider. We wanted to ensure this suit wasn't just fast on our World and Olympic champions but was fast on every athlete.
Dan Bigham - Aerodynamicist & 10x British Champion
"We knew from the outset to create the fastest tri suit ever we had to start from the first principles and build up from there. This meant breaking down and analysing the exact demands of triathlon, and not just at the surface level. We collated a deep range of race data from triathletes - short, middle and long course, male and female, and age group right up to Olympic champions. From this dataset, we set about investigating every aspect of the rider's bike leg, from simple variables such as velocity profile, drag coefficient frontal area and yaw angles experienced, right through to Reynold's numbers, draft efficiency and much more. Using this, we began to truly understand what a triathlete is experiencing whilst out on the bike. This data was used to construct our test protocols used throughout our suit development.
"The Dave Scott Long Course Triathlon Suit has been the benchmark tri suit since its inception, so it made sense to use it as our benchmark to develop from. The pattern and fit are widely regarded as the best out there, so we aimed to maintain this through the development process.
"The aerodynamics of clothing has a huge impact on a rider's performance. Around 80% of all aerodynamic drag is purely the rider, however, the actual force pulling you backwards is very small. At 40kph this is about 1.5kg, but this results in nearly 200w of aerodynamic drag! We know a small change in the drag force experienced can result in massive performance benefits. This requires careful management and manipulation of what is known as the boundary layer. In simple terms, this is thin (~1-4mm) layer of air that flows over your body whilst riding along. Typically, it flows in a state known as laminar, with minimal energy in the flow and can quite easily separate off the body around curvature and changes in shape, creating a large draggy wake behind. However, using correctly sized and shaped texture, we can induce the boundary layer to turn in to a turbulent state. The advantage of this is that the boundary layer is now energised and can resist changes in curvature and shape around the body, staying attached for longer and reducing the size of any low-pressure wakes. It's not all positive to turbulent flow though... It also increases skin friction, so we need to be strategic in its placement, efficiently creating turbulence only where it is needed and minimising skin friction everywhere else.
"We identified a range of fabrics that could possibly meet our demands to induce sufficient turbulence without robbing too much energy from the flow. We looked at CFD of multiple triathlete positions to decide how best to implement these fabrics to achieve our goal. Our first step was a broad range of tri suit prototypes, investigating both panel positioning and fabric type. From the first round of aerodynamic testing, we found one fabric to be performing consistently the best and continued to iterate the design with this, changing seam lines, seam type, pattern shape and much more to iteratively improve the suit. Over the next six months, we went through countless prototypes. All of them tested at a velocity profile range of 35kph to 55kph, utilising our world-class local Derby Arena velodrome with a highly refined bespoke aerodynamic test system, combined with a broad range of athletes. We wanted to ensure this suit wasn't just fast on our World and Olympic champions but was fast on every size, shape and speed of rider. As is well documented, aerodynamics are incredibly rider specific, and what works for one person may not necessarily work for another. To this end, we strived to develop a suit that worked consistently for every rider we could get our hands on, and not just in a wind tunnel but whilst riding on a bike! We believe we have achieved this."
UK Mainland - £4.99
UK Mainland Same Working Day Dispatch (Order Before 1pm) - £9.99
Isle Of Man, Jersey, Guernsey - £9.99
Germany - £9.99
EU (Excluding Germany, Cyprus, Turkey) - £24.99
Rest Of World - £39.99
Wetsuits - 1 Year
Goggles - 3 Months
Bags & Luggage - 3 Months
Clothing - 3 Months
Ex-Demo Wetsuits - 30 Days (size exchange only)